Back to blogs
Legal & Compliance Market Trends in APAC's Financial Services
Posted on August 2023 By Larson Maddox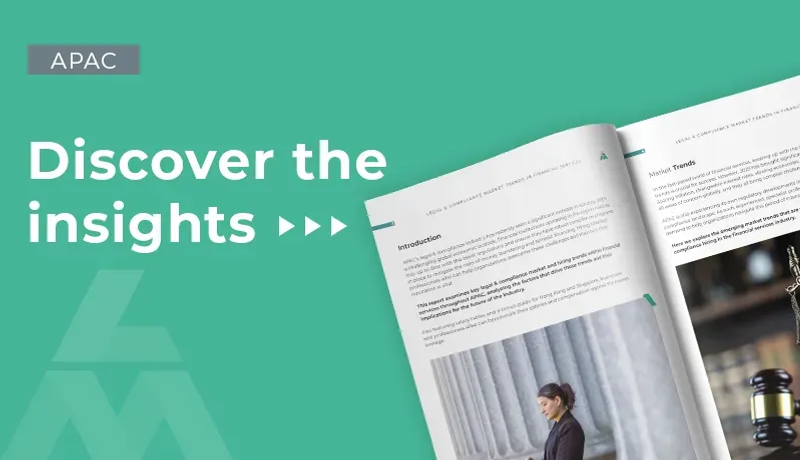 ​
Stay informed with comprehensive industry analysis
Navigate the regulatory & legal financial services sector with our latest report, "Legal & Compliance Market Trends in Financial Services" - an in-depth, indispensable resource which includes salary guidance, coverage on the latest regulatory movements, and talent mobility information across the APAC region.
​
About the report
With a challenging global economic outlook, financial institutions operating in the region need to stay up to date with the latest regulations and ensure they have robust compliance programs in place to mitigate the risks of money laundering and terrorist financing. Hiring talented professionals who can help organizations overcome these challenges and maintain their reputation is vital. Our report includes:
​

Market Dynamics: Understand the latest market changes that are impacting financial services regulations. From region-specific amendments to worldwide macroeconomic undercurrents, our report focuses on them all.

Insights on Appointments: Uncover the most sought-after roles within financial services' legal and compliance. Amidst unprecedented demand for adept professionals, glean insights on positioning yourself as a coveted talent or enticing elite talent to your establishment.

Salary Guidance: Align renumeration with the market through our salary tables and guidance covering Hong Kong and Singapore. Foster competitiveness and ensure equitable compensation for your dexterity.​
Whether you're an entrenched financial entity striving to ensure adherence or a seasoned connoisseur steering your vocational trajectory, this report is your compass to triumph. Featuring insights bespoke to the APAC expanse, you'll amass a competitive advantage and unveil prospects hitherto unparalleled.

​
Download for incomparable industry insights now:
​
​